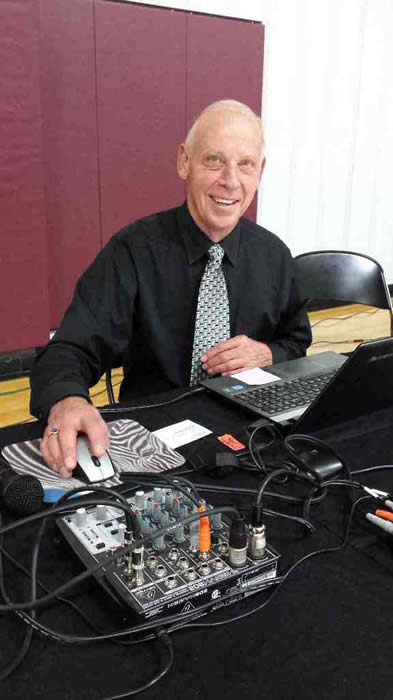 I began dancing in 1999 and in January 2005 started Let's Dance. Let's dance is a weekly social and ballroom dance that includes non-professional dance instruction geared to getting dancers out on the floor and having fun. Let's Dance has touched the lives of many people in Southwest Michigan who now enjoy social and ballroom dancing at Monday night dances and out in local venues. Let's dance has grown by word of mouth over the years, drawing crowds of thirty to sixty dancers each Monday night. Let's Dance has expanded so that in addition to Monday night dances, I now DJ at the Paw Paw and Richland Senior Centers, Kalamazoo Dance, at wedding ceremonies and receptions, and at private parties.

My music caters toward the mature crowd and covers the Big Band Era through current popular tunes. Music selection for an event is guided by the client, the nature of the event, and the client's prospective guests. I am licensed by the music industry to play recordings and have an expansive collection of songs to cover any requests.

Join us on Monday nights for the lesson or just to enjoy the dancing. Call to ask questions about Monday night dances or to inquire about music for your special event (269-375-4475).
.

All dances held at
The Point Community Center
2595 N 10th St. (Oshtemo)
Kalamazoo, MI
except where noted
Saturday Sept 21, 2019
Instructor: Art & Jill Downey
Lesson: Foxtrot
Saturday Oct 19, 2019
Instructor: Sharon Fisher
Lesson: Cha Cha
Saturday Nov 16, 2019
Instructor: Mary Hoedeman
Lesson: West Coast Swing
Saturday Dec 14, 2019
Instructor: Terry Worrall
Lesson: Waltz
Saturday Jan 18, 2020
Instructor: Teri Geer
Lesson: Rumba
Saturday Feb 15, 2020
Instructor: Dominic & Jaime Lovett
Lesson: American Tango
Saturday Mar 21, 2020
Instructor: Byron Doss
Lesson: Bachata
Saturday Apr 18, 2020
Instructor: Jean Guild
Lesson: Texas 2-Step
Saturday May 16, 2020
Instructor: Lori Marco
Lesson: Night Club 2 Step
For more information on our upcoming events, visit our
calendar