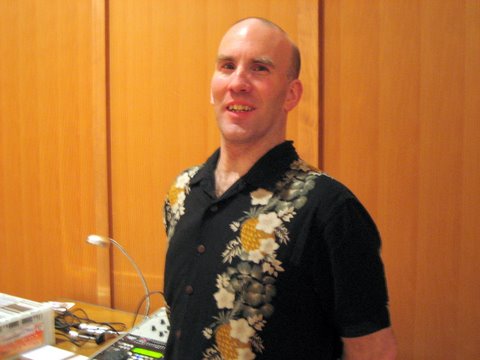 The DJ Guy has been playing the music each month for our local South Bend chapter of USA Dance for the last 4 years. Only 3 times have we had a guest DJ fill in. For the last 3 years he has played for our annual Grand Ball at the Palais Royale in South Bend, which hosts 200+ people and boasts 8800 square feet of wood floor, 20-foot ceilings, ornate chandeliers, grand staircase, etc. Check their website at www.morriscenter.org and click on Palais Royale. The local South Bend Chapter of USA Dance website is http://usadancesb.tripod.com.
Most recently, in early 2007, a new dance group has formed as an offshoot of USA Dance, called "Simply Swing". As the name implies, most of everything played at these dances is of swing style. The DJ Guy also plays for these dances each month. Visit www.simplyswingdance.com
Also in 2007 was the beginning of yet another venue in which The DJ Guy plays at the local Macy's department store. We set up in the center aisle and play music related to a particular fragrance or product or theme that is being promoted in the store. The music draws the crowd into the store and the rest is history.

For the last 4 years The DJ Guy has played for the Notre Dame Collegiate competition at Century Center in South Bend, and am lined up to play again in 2008 as well. We DJed the first comp at the Kalamazoo Radisson for the Michigan Senior Olympics in 2005. It was then that the USA Dance board wanted me to play for the Kalamazoo Dance Gala held in Battle Creek that same year. This year's event at the Kalamazoo Air Zoo has already been booked with us as well, and as of this writing, the Air Zoo dance was successful. The Air Zoo is the largest venue played by The DJ Guy to date. We also usually play about 1/2 of the regular dances at the KIA for USA Dance.

We also played for the Dance To Feed The Children which was held on October 2, 2005, shortly after hurricane Katrina. The event was a benefit that raised over $4000 for victims of the hurricane.

We employ all professional equipment, which includes Crown amplifiers, Electro-Voice Speakers, a host of signal enhancing devices, and 2 double CD players, one of which can adjust the pitch without altering the key. Our equipment is continually monitored for quality assurance. Aside from equipment, we are continually adding more music. Currently we have about 7000 titles of all styles of music, with an emphasis on music suitable for competition and recreational ballroom dancing.
We can be set up and playing music within about 15 minutes of getting our equipment in the doors of the facility. This is dependent upon the venue of course.
Please feel free to contact me via email or by phone at 574-277-1197.

All dances held at
The Point Community Center
2595 N 10th St. (Oshtemo)
Kalamazoo, MI
except where noted
Saturday Sept 23, 2023
September Dance
Instructor: Terry Worrall
Lesson: East Coast Swing
Saturday Oct 21, 2023
October Dance
Instructor: Shannon Bean
Lesson: Foxtrot
Saturday Nov 18, 2023
November Dance
Instructor: Lori Marco
Lesson: West Coast Swing
Saturday Dec 16, 2023
December Dance
Instructor: Sharon Fisher
Lesson: Waltz
Sunday Jan 21, 2024
January Dance
Instructor: Mary Hoedeman
Lesson: Texas 2-Step
Saturday Feb 17, 2024
Fevruary Dance
Instructor: Teri Geer
Lesson: American Tango
Saturday Mar 16, 2024
March Dance
Instructor: Erik Yettaw
Lesson: Rumba
Saturday Apr 20, 2024
April Dance
Instructor: Joyce Stoughton-Kim
Lesson: Hustle
Saturday May 18, 2024
May Dance
Instructor: Byron Doss
Lesson: Cha Cha
For more information on our upcoming events, visit our
calendar